The current crop of naturally leaning wines are often thought of as super approachable, drink them young wines. However the area of bio dynamic viticulture and winemaking isn't just about the bright young things, and there are some stunning examples of wines made in the bio dynamic method, (Cullen comes to mind) that can really benefit with some proper cellar time. We were lucky enough to try a number of these wines in the Loire last year, and with Charlie from Virtuous Vine, a long term cellar customer and the importer of Joly wines, we thought we'd let him tell you a bit about these unique wines himself.
Le Clos de la Coulée de Serrant is a vineyard responsible for making the world's most formidable Chenin Blancs, fine and elusive in youth, deeply complex and powerful with age. They also happen to be made according to Biodynamic practices, since 1980, by the world's foremost thinker, philosopher and practitioner of Biodynamic wine farming, Nicolas Joly.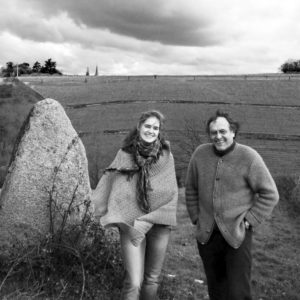 A few years ago we were asked by Nicolas Joly and his family to become the exclusive importer and distributor of their wines in Australia. This is quite simply an honour for me and Virtuous Vine.
Why am I so enthusiastic ?
Since starting business in 2012, we have worked hard to bring Virtuous Vine to a position where we can make a very clear statement of purpose – to champion the great wines made from the most outstanding vineyards of France, seen through the lens of purity that comes from Biodynamic viticulture and winemaking philosophies.
So I guess you can imagine my absolute delight to have been asked by the Spiritual Leader of Biodynamics, Nicolas Joly, to represent the work of he and his family in Australia.
The reputation of the estate, the man and the wines is unequaled. These are perhaps the world's most important wines philosophically when it comes to understanding biodynamics. And they are without any doubt the most idiosyncratic Chenin Blancs in the world.
The Vineyard
Le Clos de la Coulée de Serrant was first planted by Cistercian Monks in the year 1130. It is a 7 ha walled vineyard on a very steep schist slope above the Loire River near Angers. There is virtually no topsoil, the vines cling to the crumbly schist rocks. It is one of just 3 French Appellations to be a Monopole, that is, a single vineyard that has its own appellation and is owned by one estate.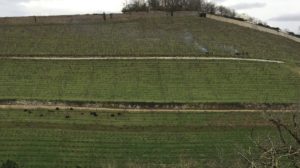 Biodynamics
A shift in paradigm…
It is becoming widely accepted that the use of chemical herbicides, pesticides and fungicides etc in agriculture has a very adverse impact on the environment and the farmers who work the land. There is thus a strong shift towards organic viticulture. But the mentality of chemical viticulture and organic viticulture is fundamentally the same – the farmer wishes to harvest a crop from a monoculture, and must combat to eliminate the competing elements (pests, weeds, diseases). The choice is simply which spray to use (the chemical or the organic).
Biodynamics on the other hand, totally changes the mentality of the farmer. The micro-ecosystem of each plot of land becomes the centre point, not the crop itself. the Biodynamicist seeks to create natural balances within the farm ecosystem, in order to reduce or cease all treatments and sprays, with the exception of homeopathic treatments designed to encourage the plants to do the work for themselves. This is a significant difference, and is more and more understood to create profoundly interesting and intricate wines. With almost no exception, every single one of the greatest estates in Burgundy are now farmed Biodynamically. Bordeaux, reluctant at first, is swiftly plotting the same course.
The Wines
The Joly family makes 3 wines, all dry whites made exclusively from the Chenin Blanc variety.
First, there is Les Vieux Clos in AOC Savennières, a beautiful assortment of old walled vineyards on the top of the slope. The schist here is topped with roughly one metre of clay soil. The wines are packed with ripe fruit flavours of melon and orchard fruit, and the finish is classic Savennières – powerful and long.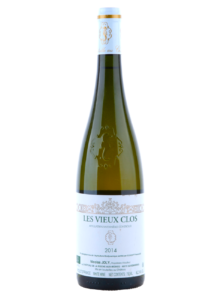 Next, Le Clos de la Bergerie in AOC Savennières "La Roche aux Moines", a single vineyard mid slope, where there is about half as much soil on top of the schist. These wines tend to get riper, and can often finish with a touch of residual fruit sweetness. They are the most forthright of the wines.
But none equals the flourish, Le Clos de la Coulée de Serrant, which holds its own Appellation. The most powerful, long, intense of them all. In youth, it smells of fresh rain on stones, with hints of melon, stone fruit and pear skin. With age, it becomes a tea chest of bergamot, dried fruits, honey and dried flowers. The wines need a long spell in the decanter, a day is best if you can wait, and enjoy the wine over the course of a full week if you can resist !
What others say
Many wise wine tasters and writers have explored and adored these wines before me. But in particular, I'd like to share with you some beautiful images and writing by Jamie Goode on his blog Wine Anorak.
At Rushcutters we're rather fond of Chenin Blanc in its many different guises as a versatile addition to the cellar. Be they sweet, off-dry (which under the correct conditions last forever), through to the precise, acid driven dry whites that it can produce. These Joly wines are really are another Chenin category entirely on their own. The sheer power and depth puts them in the "wines to drink before you die" list. Keep an eye out for them.