(Image: Tablespoon.com)
Let's face it, you don't always want to cellar all wines. Especially in the summer when light, easy drinking wines are what's called for. So when a few customers asked for recommendation we thought we'd post those suggestions. Here are our go to 2017 summer wines. Drink now and enjoy!

Let's start with fizz!
Our current local favourites are Harvest Blanc De Blanc from Unico Zelo in the Adelaide Hills. It's 100% Chardonnay, crisp and citrusy but with a little sweetness that just feels right. Nice soft foamy bubble too, generous. It's also a plus that 100% of the profits go back the growers, oh and it looks the biz too.

Prosecco.
It's everywhere. The US and UK can't get enough of it and we're seeing the trend hitting all across the East coast. Our pick is Santa & D'Sas Prosecco from King Valley, its tight and fine, loads of fresh apples, fruit blossom and a little spice. Fun and delicious thirst quenching sparkles.

Champagne
When asked, "So what Champagne should I get to really celebrate in style?" we like to ignore the big famous houses. Sounds a little wine wanky, but bear with us. Grower Champagnes are the guys that grow the grapes for all the big houses and now they make their own wines. Agrapart, is a producer all Champagne fiends should try, it's at the same quality level of Krug, but not quite at the same price. My recent fave though is Arteis & Co, Brut 2004. A new wave producer with funky branding and some serious quality in the bottle. It's all grand Cru vineyards, extended time on lees and has the most charming mousse that has florals, spice, cranberry, brioche and rhubarb Danish all rolled into one.

Sauvignon Blanc
For whites we've been enjoying a natural wine, Born & Raised Sauvignon Blanc from Sunbury, Victoria. The 2015 vintage is the third of this wine and it's the best yet. Totally unique in that it is fermented on skins and left for 104 days. This gives it a lovely texture in the mouth along with lemongrass, ginger and white grapefruit blasting out the glass. It's savvy for those that don't really like Savvy.

Chardonay
Could write a whole blog post on Chardonnay, there are so many good ones about now, but the Burton & McMahon D'Alonso Chardy from the Yarra Valley is brilliant. Yes it has oak, but lovely sexy expensive oak that well-tempered to the nectarine driven fruit. No Malolactic fermentation, which means no butteriness so the natural acidity keeps it fresh and super long. The 2015 has just been realised and its still a little tight, decant it (yes for whites too) for 30mins before enjoying.

Gamay
With the temperature heating up younger, easy to drink red are the order of the day. That doesn't just mean pinot though. Farr Rising Gamay 2016, is Nick Farr's second vintage of this wine and it is a classic.  So just so damn drinkable. Young, juicy and fresh but still with complexity and intensity that just make it perfect at anytime. Also great with a little chill.
Going up the scale, but still in the medium bodied reds is the Born & Raised Heathcote Grenache, a real pleaser. All hand harvested, gently treated in the winery and not filtered or fined makes this bright, raspberry and cream driven Grenache a lovely drink. Dried herbs, (think provence in summer) and a slash of cranberry add to its complexity. Huon Hooke wrote that it's like a warm climate Pinot, and that's a great description. Perfect for Turkey, glazed ham or charcuterie.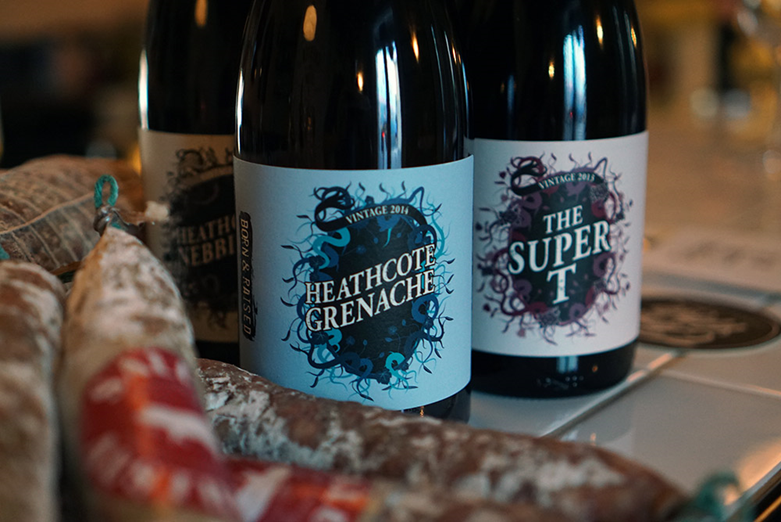 Happy summer drinking!